EVENT DETAILS
Memorial Celebration for
George MacDonald Fraser
11 AM
Tuesday 8th July 2008
Address:
St. John's
Smith Square
London
SW1P 3HA
United Kingdom
Telephone/Fax:
Box Office: +44 (0)20 7222 1061
Administration: +44 (0)20 7222 2168
The Footstool Restaurant: +44 (0)20 7222 2779
Email addresses:
A memorial organized by The Fraser Family and HarperCollins to celebrate the live and literary work of George MacDonald Fraser. Open to the public and all those who wish to pay there respects and celebrate the work of George MacDonald Fraser. The event will also be advertised in the National Press.
'Dear Flashman Society Members
I'm writing to let you know that a memorial service has been planned for GMF at St Johns, Smith Square, SW1 on the morning of the 8th July at 11.00am. It's planned that the service will celebrate his life and works, reflect the things that he held dear to him, and with content including readings from his Flashman works by Joss Ackland, along with recollections of his time in the military, his love of adventure and comedy, films etc. Speakers include Melvyn Bragg, Sir Max Hastings and the author and critic D.J Taylor. Alex Norton will also be reading from GMF's McAuslan works. The tone is one of celebration and humour and is expected to last for approximately an hour and a half. The celebration is open to all with no ticket invitations required. ' I
Regards,
Caro
The 35th Anniversary of the Discovery of the Flashman Papers

This Year, 2005 , marks the 35th Anniversary of the discovery of the memoirs of the notorious Rugby School bully, who became a Victorian hero, found in a Leicestershire saleroom.  A dozen of the enigmatic papers have so far been published so far in book form. 

The life and conduct of Sir Harry Flashman, VC, is an irregular, eccentric and somewhat picturesque catalogue of misadventures, scandals, and military history.  The papers came to light in a furniture saleroom thirty five years ago, and have since been published in a series of volumes.  Flashman on the March being the Twelfth, published 5th April 2005. 

Sir Harry Flashman's story beings with his expulsion from Rugby in 1839 for drunkenness.  He shows no regret or remorse in thus identifying himself, the Great and glorious Victorian military hero, as none other than the cowardly bully of Tom Brown's Schooldays. 

Flashman's chronicles move back and forth in time as the humour took him.  The chronicle covers almost his entire life, from 1839 up to the 1900's when he was still active, he eludes to a brawl in Baker Street in 1894, (when he was in his seventy-second year), he relates anecdotes of the Boxer rising in China (1900) and so on.  Until all the Brandy soaked papers themselves are fully restored and edited by their custodian and Editor George Macdonald Fraser, we will not know the full extent of Sir Harry's remarkable career.

These remarkable papers have covered many military campaigns of the Victorian and Colonial eras, and many other ventures besides.

In his first Adventure Harry joined with the ill-fated army of Afghanistan, in the First Afghan War, commanded by unrivalled incompetence of Gen. Elphinstone.  "Think of all the conceivable misfortunes that can arise from combinations of folly, cowardice, and sheer bad luck, and I'll give you chapter and verse. But I still state unhesitatingly, that for pure, vacillating stupidity, for superb incompetence to command, for ignorance combined with bad judgement - in short, for the true talent for catastrophe - Elphy Bey stood alone. Others abide our question, but Elphy outshines them all as the greatest military idiot of our own or any other day." [Flashman 1839-1842 , Pub. 1969]

You might have also heard how Flashy was also involved with the Schleswig-Holstein affair. Flashman's account is published as the "Royal Flash".  In his frank report Flashman tells us how he is blackmailed into one of the many intrigues of the great Prussian statesman; Otto Bismarck, during the upheaval of the years of rebellion that swept through Europe in 1847-48.  "there's no doing anything with people like Bismarck. You can have all the fame that I had then, and the good looks and the inches and the swagger--and I had those, too--but you know you're dirt to him. If you have to tangle with him, as the Americans say, you know you'll have to get drunk first; I was sober.." [Royal Flash 1842, 1847-48, pub. 1970]  In his story we also hear of his part in the progress of the Lola Montez, aspiring novelty dancer who wooed the heads of Europe.

You may think Flashman was lucky to experience what he did during the Victorian and Edwardian age - the industrial revolution in which Great Britain made the modern world; he counted himself lucky to survive at all.  Harry appears to have been remarkably short of good luck, or at least good judgement and taste during his long career, - running from duty, pursuing and pursed by a string of mistresses and tarts while attempting to maintain the appearance of ardent fidelity to his amply bosomed, blonde haired, air headed wife.  What should any good self-serving coward do when one's wife is kidnapped in a society that maintains you as a hero of Britannia?

In the papers published as Flashman's Lady [1842-45, pub. 1977] Flashy relates the great trouble and personal danger involved in rescuing one's dim-witted delinquent wife from horrors such as the torture pits of Madagascar and the arms of barmy Borneo pirates like Solomon Haslam.  "I hadn't wed her willingly, we'd spent most of our married life apart, and no harm done, and I couldn't for the life of me work up a frenzy of anxiety on her account now. After all, the worst that could happen, to her, was that this scoundrel would roger her..." [Flashman's Lady]  Rescue was however assisted by the British Raja Brooke, though Flashman, as ever, was not willing to risk anything more than his reputation, or his wife's.  "It may have been my army training, or my experience in Afghanistan, where no one even relieved himself without a staff conference's approval, but this haphazard, neck-or-nothing style appalled me..." [Flashman's Lady.]

As a political agent and Spy Flashman met and had plenty to say about the politicians and military commanders of the time.  His own political career was characteristically cut short with the involvement of a lady, and a game cards and the threat of hanging for attempted murder.  His sponsor, one John Morrison, recently raised to Lord Paisley - his father-in-law and miserly owner of half the mills in Glasgow, came to his rescue; by sending him abroad on a venture that would unveil the slave trade shipping from the stalls of African Gold Coast chiefs like King Gezo of the Dahomey, to the cool heartless American Sharps receiving them under the mask of semi-legitimacy allowed by American law.  "I believe if you entered a Swedish albino at a Memphis sale and swore he was a nigger, they'd stick him on the block, no questions asked. " In Flashman for Freedom [1845-46 Pub, 1971]. Harry is trapped between prosecution and hanging for transporting slaves, and Stealing (freeing) them.  Flashman does everything he can to avoid the American law and politicians.  Travelling the Southern States of American, witness and takes part in the slave trade and 'Underground Railroad' dedicated to freeing them.  One politician Flashman could not avoid was Abraham Lincoln, who was ever ready with advise.  "I allowed myself, in a moment of derangement, moved by pity for that girl Slave girl's distress -- I allowed myself, sir, to aid and abet you. God knows what the penalty is in Ohio for harbouring runaway slaves, assisting slave-stealers, resisting a warranted slave-catcher, and offering to disturb the peace by assault and battery, but whatever it is, I'm not in a hurry to answer for it, I can tell you."   [Flashman for Freedom]

Flashman's American adventures continued out West, both as unwilling bouncer to a travelling whorehouse in forty-nine, and unwilling tourist and chaperone to his doe-eyed wife taking in the sights of the Indian treaties of 1876.   Life on the Gold rush trails of 49' was hard.  Even harder when wintering in the mountain's with a Sioux wife.  ""  In Flashman and the Redskins [1849, 1876 pub. 1982] Flashy relates how he acquires yet another pair of wives and an entire travelling brothel.  The perils of the journey, wild Indian's "First kill, then plunder, then burn-all" approach may have left the narrator seized with panic - bowels twitching, but there were compensations for the travelling man.  Madame Susie Willinck, Cloeonie, Aphrodite to name a few.  His journey in 1849 may well have laid the foundations for an essential industry out West.  "if Cleonie was anything to go by, the graduates of Mrs Willinck's academy might be running half the knocking-shops in America by now..." [Flashman and the Redskins, The 49'er]

The second part of the Old West document covers the end of the noteworthy career of Gen. George Custer and its inevitable link with demise of the American Indian from the renowned battle at Greasy Grass, better know as the Little Big Horn.  Flashman is frank and unbiased dividing his criticism between the demented Custer and Sioux.  ""See that bald patch? That, my industrious researcher, was done by a Brulé scalping knife!" [Flashman and the Redskins, The 76'er] 

No military or colonial history would be complete without records of the British Raja; the political stew pot of India.  Harry's career is no exception.  He gained his knighthood during the Indian Sepoy mutiny; where he served, disguised as a native in the Sepoy army, and as a spy in the palace of the beautiful Rani of Jhansi.  "I know these beauties, you see, and it don't matter whether they're queens or commoners, when they start to play the cool, mocking grand dame it's a sure sign that they're wondering what kind of a mount you'll make. I'd seen the glint in this one's eye"  [Flashman in the Great Game, 1856-58. pub 1975] Harry sees the disaster and murder wrought the mutineers, he survived the massacre at Meerut, and siege of Cawnpore.  "I'll tell you a strange thing about pain - and Cawnpore. That ankle of mine, which I'd thought was broken, but which in fact was badly sprained, would have kept me flat on my back for days anywhere else, bleating for sympathy; in Cawnpore I was walking on it within a few hours, suffering damnably, but with no choice but to endure it. That was the sort of place it was; if you'd had both legs blown off you were rated fit for only light duties." [Flashman in the Great Game.]

Flashman also served in the First Sikh war with the illustrious commander Sir Hugh Gough (1779-1869).  "All India knew that white coat of Gough's, the famous "fighting coat" that the crazy old son-of-a-bitch had been flaunting at his foes for fifty years, from South Africa and the Peninsula to the Northwest Frontier. Now he was using it to draw the fire from his army to himself (and the two unlucky gallopers whom the selfish old swine had dragged along)."  The campaign itself is strange story,  Flashman's explanation is a remarkable case-history of how the war can come about, and the freaks and perfidies and intrigues of its making and waging. It is also the story of a fabulous jewel, and of an extraordinary quartet - another ravishing Indian queen, an equally ravishing slave-girl, and two mercenary adventurers.  The jewel in question is of course none other than the Koh-I-Noor,  first seen by Flashy in the quivering belly of the gorgeous trollop Maharani Jeendan, at an oriental orgy.  Queen Victoria later sought his advise on how best to have the object mounted.  "Sir Harry? Did you see it then in its native setting, and could you describe it?" [Flashman and the Mountain of Light. Pub. 1990]

<![if !vml]>
<![endif]>Taiping Rebellion and Peking Expedition of 1860 in China found work for the skills for the lying, womanising coward as once again Flashy pushes his luck too far once again and he is caught running guns to rebels, instead of the less risky Opium he was expecting.  How do you introduce yourself to the Divine Emperor, Son of Heaven - his imperial majesty of China?  Kow-Towing in chains, "I am a Banner chief in the Red-haired Army, a trusted creature of the Big Barbarian."  [Flashman and the Dragon 1860, pub. 1985]   The Taiping Rebellion was appalling, the worst civil war in history, one of the bloodiest wars ever.  The bloodiest battle ever fought on earth was the Third Battle of Nanking, when in three days the dead exceeded a hundred thousand.  "Whenever the Taipings undertook any desperate military action, they invariably raised black silk flags in every company, which their soldiers were bound to follow on pain of death - they even had executioners posted in the ranks to behead any shirkers, which must have done wonders for their recruiting..." [Flashman and Dragon.].  Luckily Flashman had the option spending the campaign in the perfumed gardens of the Summer Place, at the mercy of the beautiful Yehonala Tzu-hsi, the Orchid, the incomparable (insatiable) Yi Concubine, later Empress of China.

England's Number 1 scoundrel having disgraced himself and his Queen (who was not amused) from India to Little Big Horn in a trail of tangled bed sheets, angry husbands, and besmirched uniforms found himself entwined in the services of the "Angel of the Lord" - John Brown in 1859.  The memoir was written in 1913 when the aged Sir Harry heard his great-grandchildren sing "John-Brown's Body" at his Leicestershire home, Gandamack Lodge.  He tells us how he joined John Brown and on his raid on Harper's Ferry, Virginia - and thus effectively setting the wheels in motion that will start the American Civil War.  "I doubt if one American in five has even heard of John Brown - but let him make his crazy raid, and swing for it, and the whole world will hear of him. And what will the world say? That America, the land of liberty, has hanged an honest, upright, God-fearing Christian whose only crime was that he wanted to make men free."  [Flashman and the Angel of the Lord 1859 pub. 1994]
Flashman has many tales to tell; in Flashman and Tiger [pub. 1999], the eleventh volume, he gives an insight into how the Victorian era's greatest Knave, behaves in his mature years.  He is still the wicked bully, slightly less able to run from trouble but just as capable when it comes to amorous gymnastics.   This volume contains three stories.  The first, reminiscent of his adventures in Germany in the 'Royal Flash'.  The story tells how he is again the victim of blackmail. (Forever the dilemma of a guilty conscience.)  Unwillingly dragged off to Austria on board the Orient Express, he hobbles after the bastard of his former rival - a man he described as a "Hungarian pimp", in order to assassinate the Emperor Franz Joseph, but not before he seduces a duchess; the former mistress of Otto Bismarck.  The second tale recounts an association with "Dirty Bertie", the Prince of Wales - Edward.  Old Flashy relates the events that led to the famous 'Baccarat Scandal', where Prince Edward was forced to appear in court to give evidence in a matter concerning cheating at cards.  Even Flashman couldn't have guessed how things turned out, or what part his dear wife had played in the little affair.  The final tale of this volume starts with the immortal words. "You think twice about committing murder when you're over seventy..."[Flashman and Tiger]  Flashman tells the lengths he will go to protect his reputation or that of his granddaughter, when he faces up to Tiger Jack Moran, and nearly gets caught by the famous meddler Sherlock Holmes. [Flashman and Tiger pub. 1999]
The life of Flashman, Sir Harry Paget, brigadier-general, V.C., K.C.B., K.C.I.E.; Chevalier, Legion of Honour; Order of Maria Theresa, Austria; U.S. Medal of Honour etc etc is an incredible one.  His truthfulness is not in question.   He is uncompromisingly honest.  Considering the despicable catalogue of sins to his name it is surprising to the reader that he shows no shame or guilt. As students of those volumes will be aware, his personal character was deplorable, his conduct abandoned, and his talent for mischief apparently inexhaustible; indeed, his one redeeming feature was his unblushing honesty as a memorialist.  How he aided in the downfall of many, including a young prince, William - a cousin of Queen Victoria herself, is well documented.  In case of the poor Prince, this led, indirectly to his death.  Had Flashman not left him drunk at the mercy of pool room rascals (Flashy and his friends), or introduced him to low-life's like whores (more of Flashy's acquaintances), or had him seduced by a German Lady in stockings and ribbons.  (Flashy's recommendation) the poor prince might have paid more attention to his military duties he wouldn't have got his head blown of during the Battle of Alma.  [Flashman at the Charge 1854, pub.1973]
In Flashman at the Charge we are informed of the events that lead to that lunatic engagement "The Charge of the Light Brigade".  "I should know, with my twenty-odd campaigns and wounds to match - not one of 'em did I go looking for, and the Crimea least of all. Yet there I was again, the reluctant Flashy, sabre on hip, bowels rumbling and whiskers bristling with pure terror, on the brink of the greatest cavalry carnage in the history of war. It's enough to make you weep."  [Flashman at the Charge]  The description of how three experienced British commanders combined to produce the most culpable chain of command in the history of the British army, and sent the light Brigade to face the Russian Guns is scandalous enough, but added to this; Flashman's tireless attention to lack of duty and wilful disregard for honour and you have a masterpiece in the annals of cowardice.  "For an instant even I was appalled - but only for an instant." Said as he threw another mistress to the wolves, this time literally and in the dead of Russian winter.  " 'with what nobility and power the gallant Flashman rode. Charging ahead even of his valiant chief, the death cry of the illustrious Nolan in his ears, his eye flashing terribly as he swung the sabre that had stemmed the horde at Jallalabad, he hurtled against the foe.' - There was no stopping my mad career, and I found myself roaring pleas for mercy to the distant Russian gunners, crying stop, stop, for God's sake, cease fire, damn you, and let me alone..." [Flashman at the Charge.]
To conclude, what it is like with the  adventure over, only the memories, old scars and a king's ransom in loot for company, in Flashman's own words. "...so often it's like that, when the most vivid chapters end; the storm of war and action hurtles you along in blood and thunder, while seeking vainly for a hold to cling to, and then the wind drops, and in a moment you're at peace and dog-tired, with your back to a gun-wheel at Gwalior, or closing your eyes in a corner seat of the Deadwood Stage, or drinking tea contentedly with an old Kirghiz bandit in a serai on the Golden Road, or sitting alone with the President of the United States at the end of a great war, listening to him softly whistling "Dixie"."  But then you wouldn't know unless you'd lived as Flashman did; always on the run, as cowards are, or watching out for the next randy tart that might take a fancy to you.
You might be starting at every noise or wondering if the distant thunder you just heard was actually the boom of siege guns set against your fence, but you don't have to; Flashman was there and he has told all in the Flashman papers edited by George Macdonald Fraser. 
<![if !vml]>
<![endif]>
Signet Paperback (US) of Flashman 1970 - Cover Illustration by A.E. Barbosa
<![if !vml]><![endif]>
HaperCollins
Paperback of Flashman

2005

The HaperCollins Flashman Covers are currently Illustrated by Gino D'Achille

 

 
NEW FLASHMAN BOOK
The next Instalment of the Flashman Papers
FLASHMAN ON THE MARCH
<![if !vml]>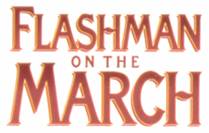 <![endif]>
George Macdonald Fraser
NOW
Covering the 1868
Flashman's Campaign to Abyssinia
Sir Harry Flashman is one of the great creations of modern literature. First encountered as the school bully in Tom Brown's Schooldays (1857) by Thomas Hughes, he was thankfully rediscovered by George MacDonald Fraser (b.1925) who purportedly edited the Flashman papers starting with "Flashman" in 1969. The series has now run to twelve volumes.  Taking us from the classrooms of Rugby School, through the Afghan Wars, the Crimea, the United States, China and the Indian Mutiny.
"Not only are the Flashman books extremely funny, but they give meticulous care to authenticity.  You can, between the guffaws, learn from them." Washington Post
"Whether Flashman goes a-rogering in Timbuktu or flees headlong down the Amazon pursued by native tribesmen with poisoned darts, I will follow him in the confident expectation of being uninterruptedly entertained. As well as providing a fine assortment of treats, George MacDonald Fraser is a marvellous reporter and a first-rate historical novelist" Kingsley Amis, Sunday Telegraph 1991
Flashman's Lady

George MacDonald
Mountain of Light

dimonds

George MacDonald Fraser
'Flashman' is the first of Eleven instalments of the papers so far. A classic and racey start to many adventures that see Harry; former bully of Rugby, running for cover and chasing ladies and whores alike all over the British Empire.
This racey instalment solves the mystery of what happened to Harry; coward, bully and cad of Thomas Hughes' 'Tom Brown's School Days'.
Firstly he seduces his father's mistress, joins Lord Cardigan's 11th Light Dragoons - gets involved in a Duel, in which he cheats, and then moves on to Indian ending up the hero of the hour in Afghanistan!
english authors
The Candlemass Road
Black Ajax
George MacDonald Fraser
The General Danced at Dawn
McAuslan in the Rough
The Sheikh and the Dustbin
The Steel Bonnets
The Story of the Anglo-Scottish Border Reivers
Quartered Safeout Here
The hollywood history of the world
DAMN YOUR EYES!