FLASHMAN PAPAERS VOLUME TWO: 1842-1843 and 1847-48


Royal FLASH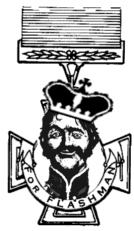 "Courage ... and Shuffle the cards!" Lola Montez
Amazon Orders
After returning back home safely to London Flashy settles down to a routine of gaming and whoring, until he meets Bismarck.
Royal Flash Volume two of the Flashman Papers.
Following the sensational publishing of the first volume Flashman in 1969 this second volume followed in 1970 causing further upset and controversy amougst historians at the newly revealed extent of the papers and thier shocking contents.
In this volume Flashman is in London taking a break from military duties, but due to either his lack of morals or his wicked nature he does not stay out of trouble for long.
A chance encouter with one of the most notorious ladies of the day, an actress called Lola Montez sets Harry on a quest to Prussia which will lead to his involment with the imfamous plotting and scandals of the Duchy of Strackenz.
This first hand account of one of the most intriguing and secret of these scandals revealed for the first time the sourceof inspiration for Anthony 'Hawkins' Hope's Prisoner of Zenda, allowing historians to clear identify the characters events related in the 'Prisoner of Zenda' and the sequel 'Robert of Hentzau'
The events at Strackenz have a bearing the Schleswig-Holstien question which played a major part in the history of the formation of modern Germany and the events finally leading up to the first Franco-Prussian, and eventually the First world war. Flashman revists this theme after returning to Germany later in life. These events are related in Volume Eleven.
...........
Flash for Freedom Volume Three
...........
Reviews
"Fraser is a natural storyteller... Flashy is a wonderful character"
Daily Express
"MacDonald Fraser falls into what these days is an exclusive group; a storyteller who can write"
D J Taylor, Sunday Times.
"Flashman rides again... skilful and exciting"
The Sunday Times
"Whenever fate catches Flashman with his cherry-picker pants down, we can be sure he will stoop to the occasion with his customary caddishness"
Sunday Telegraph
...........

Malcolm McDowell in the 1975 film- "THE ROYAL FLASH
In 1975 a wonderful film was made of the Royal Flash, scripted by George MacDonald Fraser. Directed by Richard Lester. The film follows the book faithfully, bar a few details: The names of a few famous places and people were changed to possibly aviod contention.
Flashman: Film Audio and Television.
1842-1843; 1847-1848. Royal Flash. Volume Two
Quotes from Royal Flash
Lola Montez - 'Courage and Shuffle the cards'
Policeman to Otto Von Bismarck in London. "Cap'n Flashman is a British Officer,
so you don't demand nothink"
'"Cheer up little wife" says I, "there won't be any more singing downstairs," and whipped the nightdress clean off, over her head.'
"You bloody Lair! D'ye expect me to belive this cock-and-bull?"
"I had been bloody near killed more times than I could count, cut, wounded and half drowned, scared out of mu wits ... suddenly I felt full of spite and anger towards them!"
...........
Recommended Reading
Related to Royal Flash, Lola Montez, Bissmark and Prussia
From Bismark to Hitler, 1890-1933
"The Prisoner of Zenda" & "Rupert of Hentzau
The Prisoner of Zenda: Cassettes
The Vanished Kingdom : Travels Through Prussia
A Duel of Giants: Bismarck, Napoleon III; Origins of the Franco-Prussian War
John Gully; British Heavy Wieght Campion
Bareknuckles: a Social History of Prize...
Recommended Films
The Prisoner Of Zenda - Stewart Granger
Royal Flash - Malcolm Macdowell, Oliver Reed
Vote for this book in the Flashman Papers Top Ten