FLASHMAN PAPERS VOLUME ONE: 1839-42


FLASHMAN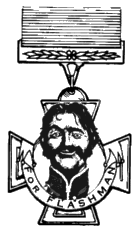 "Good God!" he said. "It's one of our boys - drunk!"
| | |
| --- | --- |
| Amazon Orders | American Editions |
How can things get worse than being expelled from Rugby school for Drunkenness?
Flashman didn't know it; but he was heading for trouble.
Flashman Volume one of the Flashman Papers.
First published in 1969 after the discovery of Sir Harry Flashman's memoirs hidden in a trunk during a sale of household furinture at Ashby, Leicestershire, in 1965. The current owner of the papers Mr Pager Morrison,of Durban, South Africa asked requested George Macdonld Fraser to research, arrange and publish the papers for. The discovery of the famous soldiers memoirs were described as the greatest discovery since the Boswell papers.
Most of papers were written when aged general was in his late Eighties. However he did not appear to write them in any particluar order, some can be dated by events of the day which are mentioned in the narrative. Sir Harry appears to have continued writing right up until his death sometime in 1915. There are as yet many papers yet to be published, those that have been published have been done so in the order George MacDonald Fraser finshes editting each packet of papers opened and not neccesarily in chronological order.
'Flashman' is the first of Eleven instalments of the 'Flashman papers' so far. A classic and racey start to many adventures that see Harry Flashman, former bully of Rugby, running for cover and chasing ladies and whores alike all over the British Empire.
This racey instalment solves the mystery of what happened to Harry Flashman, coward, bully and cad of Thomas Hughes' 'Tom Brown's School Days'.
Firstly he seduces his father's mistress, joins Lord Cardigan's 11th Light Dragoons - gets involved in a Duel, in which he cheats, and then moves on to Indian ending up the hero of the hour in Afghanistan!
Disarmingly frank about what a wanton dog he really is, Flashman relates his part in the first Afghanistan war and how he learnt the Ninety-seven ways of Hindu Love making.
...........
...........
Reviews
"Mr Fraser is a skilful and meticulous writer, twice as good as Buchan, and twenty times better than Flemming."
Auberon Waugh, Evening Standard.
"Flashman tells his story with the sexual avidity of Frank Harris and the Range span of Portnoy. He is Irresistible entertainment."
Sunday Telegraph.
"Breathtaking exploits and cliff-hanging suspense."
Financial Times.
"This smack at the early-Victorian belly-button is aimed with gusto."
The Observer.
"George MacDonald Fraser writes superbly."
Washington Post
...........
Original Painting by W.B.Wollen.
Last stand of the 44th Regiment at Gandamack on the morning of January 13th 1842.
The force reduced to fewer than forty men by the retreat from Kabul that had became towards the end a running battle through two feet of snow. The ground was frozen and icy the men had no shelter and little food for weeks. Only a dozen of the men had working muskets, the officers their pistols and a few unbroken swords.
When the Afghans surrounded them on the morning of the 13th they announced that a surrender could be arranged.
"NOT BLOODY LIKELY" was the bellowed answer of one British sergeant. Astonishingly there was one survivor Captain Thomas Souter of the 44th who had wrapped the Regiment's colours around himself to prevent them falling into Afghan hands. The Afghans allowed him to live believing he was somebody of importance. The only other surivours were Flashman himself who broke thourgh the siege at Piper's Fort and later Dr. Brydon who staggered into Jalalabad exhausted and hungry.
| | |
| --- | --- |
| 1839-1842. Flashman. Volume One | American Editions |
Quotes from Flashman
"Christ! If that's how we won at the battle of waterloo, thank God the French don't know or we shall have them at us again."
"It was several weeks before the appropriate orders came through, by then I'd grabbed fortune by the foreskin , so to speak...."
As his Commanding officers crowded round his bed to praise his valiant efforts and comfort him against his injuries.
"Amen, said the little doctor. Really all they needed was a church organ and a choir."
About his Father's mistress:
"She stood glaring at me. Her bosom was what the lady novelists call agitated, but if they had seen Judy in a negligée they would think of another way of describing feminine distress."
...........
Vote for this book in the Flashman Papers Top Ten