FLASHMAN PAPAERS VOLUME SIX: 1842-45


FLASHMAN's LADY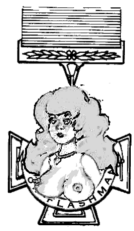 "ye're a guid lad Harry - ye'll no' fail her!"
A remarkable encouter with fellow old Rugbian, Tom Brown leads to one of the most remarkable events in the history of early Victorian cricket.
Flashman's Lady Volume Six of the Flashman Papers.
This third volume published out of chronological order in 1977 possibly due to extensive reasearch required to verify this extensive volume covering events as diverse as Cricket at Lords, the pirates of Borneo and the horrors Madagascar. The events and dates in this volume correspond to the period not covered in the second volume 'Royal Flash'
Flashman writes here about the events that take place in the gap from 1842 to 1845. It is evident that this volume of papers had been edited or read by a close relative of Flashman before being given George MacDonald Fraser for publication. There are also extracts from the diary of Harry's wife, Elspeth.
Flashman obviously a copious writer, is not a discipled one. The memoirs edited together do not always follow a clear chronological order but are written as Flashman sees fit, often including narrative describing events occurring at the time of writing. This however does not impair the accuracy of the papers which remain a highly accurate account of the Victorian era.
While passing the public house of the sporting set the Green Man, Flashman for the price of a beer ends up setting in motion events that sent send him two-thirds of the way around the world in order to rescuse his wife from a pirate.
Flashy produces one of the most senstional 'overs' bowled at the home of Cricket, Lords itself. In three balls elliminating the best three cricketers of the day. This event has the earlest referance to the sporting term 'hat trick'.
Flashman's account of Madagascar is almost unique, most visitors to the Island did not survive, let alone manage to rescue thier wife's in one peice. There is aslo a rare account of an adventure with self made king and ex-rugby school boy James Brooke - the White Raja!
...........
Flash at the Charge Freedom Volume Five
...........
Reviews
"In his own field Fraser is the best-informed novelist writing today"
Glasgow Herald
"The chief reason for Flashman's continuing popularity is the simple fact that George MacDonald Fraser writes superbly"
Washington Post
"Mr Fraser's narrative drive and critical affection for the makers and shakers of the dominions are whole-hearted pleasures"
The Times
...........
Quotes from Flashman's Lady
'I'd got Felix by skill, Pilch by luck, and I'd get Mynn Knavery...'
'You see the moral; cover every strumpet in London if you've a mind to, it don't signify so long as you can take wickets' - (who says a good game of British Cricket isn't fun?)
Elspeth 'He vowed that I loved him too - that he had known it from the encouraging signs he had detected in me...which was an odious construction which his fever'd brain had placed on the common civilites and little Pleasantries a lady is acustomed to bestow on a gentleman'
Elspeth 'yet again ... kissed with greater force than before. Fortunately, one of the gardeners was heard approaching, and I was able make good my retreat, with my wits quite disordered'
'Good God, you don't mean to say that he got his knocker shot off?'
...........
Vote for this book in the Flashman Papers Top Ten