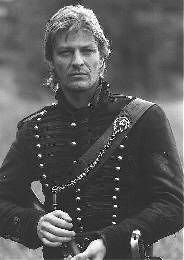 Lieutenant Colonel Richard Sharpe
"...damn son-of-bitch was risen from the ranks thankee'!"
Rifle man Richard 'bloody' Sharpe damned dangerous fellow - what? Damn his eyes, just the type of strong, bold and brave fellow who'd be foolish enough to drag you off on a dangerous and deadly mission and no doubt get you your head blown off in the process! Keep well clear of the Impertinent son-of-a-whore, unless you what to end up in the thick of it in the front lines. Flashy would rather stay back home with his feet up at the club nursing a fine Brandy rather than be dragged onto ... or any where near a battle with one resembling that dangerous, fool hardy disrespectful bastard Richard Sharpe!
"...damned Brave, or a complete fool, but bloody Resourceful fellow" Captain 'Buck' Flashman, (father Harry Flashman) Waterloo 1815
.
Sharpe's Tiger
It 1799, Richard Sharpe is a private in the 33rd Regiment newly arrived in India. They are sent to stop Tippoo of Mysore and drive the French out of India.
Sharpe's Trafalgar
On route home from Bombay Sharpe gets caught up in the famous Naval battle at Trafalgar.
Sharpe's Prey
Lieutenant Richard Sharpe is planning to leave the army. Against his better judgment, he is persuaded to accompany the Hon John Lavisser to Copenhagen where he gets involved with French actions there.
Sharpe's Rifles
In terrible winter of 1809 the British army is retreats in front of the French advance into Spain. The 95th is trying to stop french armys. Newly made Lieutenant, a Sergeant picked from the ranks, one Richard Sharpe is given command of 50 Riflemen.
Sharpe's Eagle
Now Captain Richard Sharpe, perpares to lead his men at Talavera, but he is hampered by Colonel Simmerson. Who dislikes officers risen from the ranks.
Sharpe's Gold
During a lull in the campaign Shapre gets the chance to get his hands on some loot and a beautiful female Spanish spy.
Sharpe's Battle
In the spring of 1811 the Peninsular campaign still going slowly Sharpe is put in charge of an Irish battalion in hopes that he will put an end to the desertions. An elite French unit commanded by Brigadier Genaral Guy Loup attempts to get revenge on Sharpe.
Sharpe's Company
Following directly from 'Sharpe's Battle' while quartered in the crumbling Portuguese fort of San Isidro, Sharpe and his men are attacked by an elite French unit commanded by the formidable Brigadier Loup, and suffer heavy losses.
Sharpe's Sword
The rivalry between Sharpe and the ruthless Frenchman Colonel Leroux comes to head when Sharpe is dearly wounded
Sharpe's Enemy
A band of renegades led by Sharpe's vicious enemy. Obadiah Hakeswill, holds a group of British and French women hostage in a strategic mountain pass.
Sharpe's Honour
A a midnight murder end in the imprisonment of Sharpe. Condemned to die as an assassin, he is the pawn in a plot conceived by his archenemy, Pierre Ducos. Caught in a web of politcal intrigue for which his military experience has left him fatally unprepared.
Sharpe's Regiment
Sharpe is sent back to England to save his regiment The ringleader know Sharpe is on their trail, and they try to kill him at every turn.
Sharpe's Siege
Sharpe finds himself leading a small force of riflemen in support of an ambitious and inept naval Captain's schemes.
Sharpe's Revenge
It is 1814 and defeat of Napoleon and France seems imminent. Sharpe must fight a different sort of battle. Accused of stealing Napoleon's personal treasure, Sharpe escapes from the British military court and embarkes to clear his name.
Sharpe's Waterloo
1815, The British and their allies are prepare for battle, reluctant newly promoted Lieutenant Colonel Richard Sharpe. Lured back to the army from a rural idyll, Sharpe finds himself on the personal staff of Frederick, Prince of Orange.
Sharpe's Devil
1820, Sharpe and Harper find themselves involved with a sea battle off the Chilean coast
Other Sharpe Titles
.
Shapre Campanion

Sharpe - The Legend

Marching With Sharpe

Sharpe's Mission.

Extra 'chapter' of Sharpe's Peninsular adventures

Sharpe's Justice.

TV adventure written for Sean Bean who never mastered an Essex accent. This story sees Sharpe return to his 'home' in Yorkshire(instead of Essex!)

..
.
Search www.harryflashman.org now:: Enter Text to Search For:

Searching this wesite powered by Sitelevel.whatUseek.