FLASHMAN PAPAERS VOLUME SEVEN


FLASHMAN AND THE REDSKINS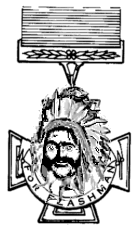 "."

.

Flashman and the Redskins Volume Seven of the Flashman Papers.

More from the Flashman papers editted by George Macdonald Fraser

An aged Harry Flashman at Little Bighorn, caught between the gallant remnant of Custer's 7th Cavalry and the withering attack of Sitting Bull's Braves. This pack of the papers from the memoirs of history's most decorated poltroon sees Sir Harry returning to America, here provids us with the definitive version of how George A Custer met his grisly end at Little Big Horn and Flashy himself got scalped!