The Best of the British Intelligence service
Commander James Bond RN 007 Licensed to Kill
Sir Harry Flashman V.C. K.C.B., K.C.I.E Licensed to Flee!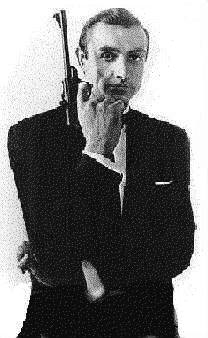 The Films

Further Reading

The New Movie

Sir Harry Flashman -

006.9
IAN FLEMING Creator of James Bond
Journalist, British secret service agent, writer, whose most famous creation was the oh so British James Bond, agent 007. Fleming spent the war years with British Intelligence, but his books are based on his war service and experiences in traveling and reporting as a journalist - they offer exotic locations, beautiful women, and exciting and inventive adventures.
"It was a dark, clean-cut face, with a three-inch scar showing whitely down the sunburned skin of the right cheek. The eyes were wide and level under straight, rather long black brows. The hair was black, parted on the left, and carelessly brushed so that a thick black comma fell down over the right eyebrow. The longish straight nose ran down to a short upper lip below which was a wide and finely drawn but cruel mouth. The line of jaw was straight and firm. A section of dark suit, white short and black knitted tie completed the picture."
(James Bond in From Russia, with Love, 1957)

Ian Fleming was born in London as the son of Major Valentine Fleming, a Conservative M.P., who was killed in action during World War I, May 20th 1917, and Evelyn St. Croix Fleming. He was educated at Eton, the British military collage - Sandhurst. After Sandhurst, Fleming studied languages at the universities of Munich and Geneva. He took the Foreign Service exam, but found himself at the age of twenty-three without a career. From 1929 to 1933 he worked as a journalist in Moscow, then a banker and a stock-broker in London (1935 to 1939).

During World War II Fleming's skill in languages, his experience and knowledge of Europe made him an ideal candidate for the Intelligence service. He went on to become high ranking naval officer in the British intelligence. He was a personal assistant to Admiral John H. Godfrey, who served as the model for James Bond's commanding officer, "M". Fleming organized the No. 30 Assault Unit - the Germans had successfully used similar Intelligence assault unit in Crete in 1941. During a training exercise Fleming had to swim underwater and attach a mine to a tanker. This act became material for the climax of LIVE AND LET DIE (1954). He planned operations in Germany, in particular Hamburg a center of operations for German U-boats. After the war Fleming was a foreign manager of Kemsley Newspapers. He held this post until the newspaper group became Thomson Newspapers in 1959.

Fleming's first book was not a spy novel but a foreign correspondent's guide-book which was issued for the education of his staff. In 1952 he married Anne, Lady Rothmere, in Jamaica, where he built a second home later to be called Golden Eye. Flemming wrote most of the Bond books there, during holidays from his main work as a newspaper jounralist. The first Bond adventure, CASINO ROYAL, appeared in 1953, and it was followed 13 others. Casino Royal was partly based on Fleming's less fortunate gambling experience in Lisbon during the war.

In 1956 Fleming started selling his novels to be adapted for a comic strip. He was asked to contribute to a series of articles for London's Sunday Times on diamond smuggling. The articles appeared in book form in 1957. Fleming published A successful children's book about a magical car, CHITTY-CHITTY-BANG-BANG. It was adapted into a musical film in 1968. Among his non-fiction is the travel books THRILLING CITIES (1963). It was based on articles published in Sunday Times in 1959-60.

The film version of Doctor No was released in 1963. The spring of the same year saw the publication of On Her Majesty's Secret Service, including a limited edition of 250. The cover featured the Bond family coat of arms complete with the motto 'The World Is Not Enough.'

In spite of warning's from doctors, Fleming did not give up his outdoor activities, and the final heart attack which ended his life came at the Royal St. George's Sandwich golf course in Kent on 12 August, 1964. The Man with the Golden Gun, finished by Fleming's literary executors, was published posthumously. OCTOPUSSY, a collection containing two of Fleming's Bond stories, appeared in 1966.
JAMES BOND
(the name was taken from that of an American ornithologist), the son of a Highland Scots father and a Swiss mother. Both of Bond's parents were killed in a climbing accident when he was eleven.
An inheritance of £1000 a year let him add some other educational experiences to his boarding school years. Aged sixteen Bond lost his virginity in Paris.
He joined the British secret service in the late 1930s, but switched to the navy when the war broke out, attaining the rank of commander, towards the end of the war he found himself back working for the secret service behind the lines in Germany and the far East.
Bond is a skilled golfer and card player, expert driver and a crack shot.
Among his friends is American Felix Leiter from the CIA.
Bond's favorite drink is vodka martini, shaken, not stirred, and he trusts on Walther PPK, originally designed for the German plain-clothes police.
NEW FLASHMAN BOOK
The next Instalment of the Flashman Papers
FLASHMAN ON THE MARCH
George Macdonald Fraser
April 2005
Covering the 1868
Flashman's Campaign to Abyssinia